We all know the signs that your roof needs care and attention, but what about your gutters? Gutters are often overlooked when it comes to the health of your roof and can actually prevent damage to your roof, siding, and other parts of your home if they are well maintained over the years.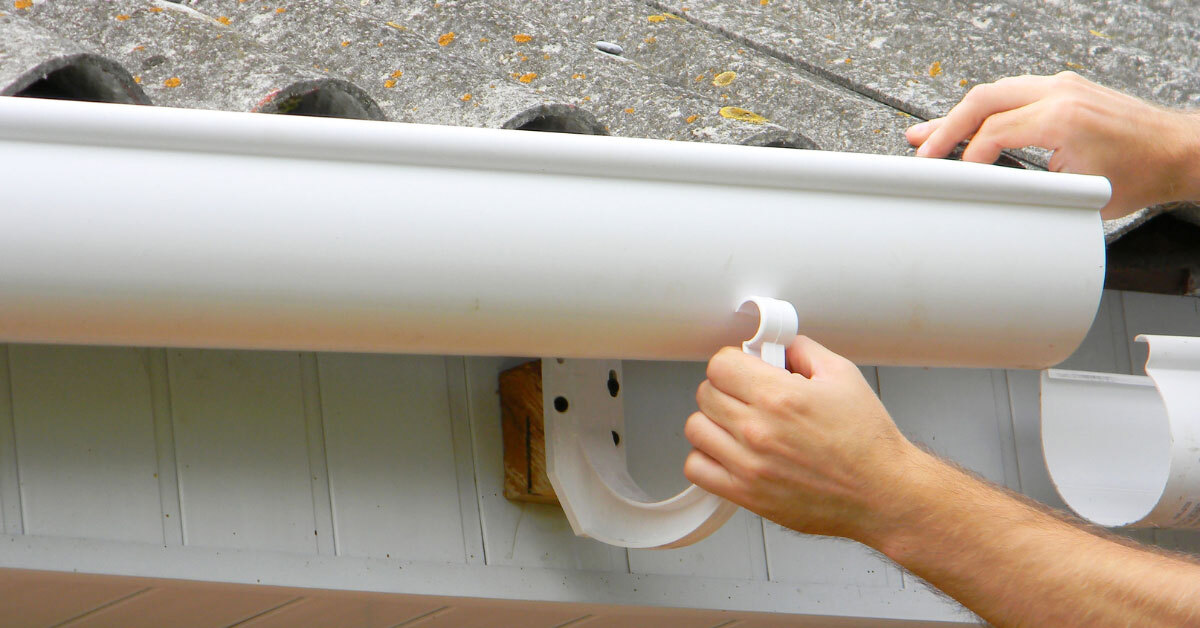 Here are some things to keep in mind when thinking about the health and life of your home's gutters:
Safety First:
The right tools go a long way! Before you climb up that ladder and start cleaning your gutters, it is important to make sure you have the proper tools. You will want to make sure you have the basics like a pair of thick work gloves, non-slip shoes, and safety goggles.
Most importantly, you'll want to make sure you have a tall and sturdy ladder. For most one- and two-story homes a 20-foot or taller extension ladder will be your best choice to have the proper height to reach your gutters. Make sure to position your ladder on even surfaces. If there are power lines nearby or your gutters are taller than a story, it is best to call experienced professionals to avoid unnecessary risks.
Cleaning your gutters at least twice a year:
Your gutter's lifespan can be increased greatly with regular cleaning. This will ensure the exterior of your home stays spotless longer.
Each Fall you probably have cleaning your gutters on your to-do list, however, it is important to do it more than once. By the end of Spring, your gutters are prone to be clogged with dirt, leaves, and debris that have previously fallen on your roof. Clearing these each summer is vital to the preventative maintenance of your home. For those who live in rainy and high storm areas, your gutters are more susceptible to more frequent clogging of debris.
Check for pests and rodents:
There are many different types of small pests that may have found a little home in your gutters. Termites, carpenter ants, mice, rats, and beehives are among the popular ones. Don't ignore these pests because they will become a big problem for you and your home later on so should be addressed immediately.
Clear the roof:
Often, the debris that clogs your gutters most is from your roof. This can be from heavy rainfall, wind, or simply gravity pushing it down. Take safety into account when you go to scale such heights. Never go when it is icy, wet, or windy. Inspect your downspouts: Just like you should clear your gutters regularly, you should do the same for the downspouts and any other pipes leading away from your home. It is important to check for any leaks, rust, or clogging. Also, to ensure that water is not draining too close to your home, make sure your downspouts extend several feet from your home.
Frequently Asked Questions
A tree fell on my roof. Can you remove it, too?
Yes! We can arrange for tree removal prior to roof tarping. We'll coordinate the entire project for you.
Can a residential roofer do commercial roofs, too?
Not many can. A membrane or metal commercial roof system generally requires a different set of equipment, specialized materials, and expertise. From asphalt emulsion-based systems to built-up and mod-bit systems to galvanized steel, commercial roofs require a different skill set than that of a roofer more used to dealing with residences. Ninja Roofs is the company to choose in Centennial, CO and Surrounding Area when you want to "go local" and choose the best commercial roofing company at the same time.
Can you tarp my roof even if it's still raining?
Generally, we'll wait for a break in the rain before climbing onto a roof when the rain is still sheeting due to the safety risk. One of the best benefits to choosing Ninja Roofs is that we live right here in Centennial, so we'll be watching the weather along with you. Just give us a call, and together we'll determine the best time to tarp your roof.
Do I have to hire you to fix my roof if you tarp it?
Absolutely not, but you should. Temporary roof tarping is generally covered by your homeowner's insurance policy, but choosing multiple contractors for the same claim may delay the process. Insurance companies refer their clients to us all the time, though, because they trust us to get the job done right at a reasonable price. We can be on our way to tarp your roof, and we'll come back and meet with your insurance adjuster to discuss our recommendations for the repairs. One-stop-shopping!
Do I need to buy a battery?
There are two primary ways that homeowners benefit from owning a battery:
First, you can use the battery for backup power. If the grid goes down, you're still covered. If disaster strikes, if there's a hurricane in your area, or a fire, or any of the things that we're all dealing with now, on a much more common basis, having a battery will allow you to continue to have electricity in your home, even if your utility company can't provide it.
The second reason is that you can often actually save money by getting a battery if you live in a region with specific rate structures where you would benefit from using stored power from the battery during more expensive times of the day. In many regions, the net metering policy allows you to save money without the need for the battery unless you want the peace of mind that comes from knowing that your home can provide electricity even when your utility company can't. Ask your Ninja Roofs consultant for more information. They'll be able to give you a detailed proposal of exactly how much a system will cost with a battery if you're interested in one. We work with all the biggest battery manufacturers and we can absolutely make sure that you get taken care of – whichever way is best for you.
Do you know how to work with flat roofs?
Yes! We have years of experience installing, maintaining, and repairing the membrane roofs and steel roofs most often used for large, flat surfaces. Whether you want to know your options for a full replacement or simply need your roof repaired because you've discovered a water leak or other damage, Ninja Roofs can help. We will also help you develop a regular roof maintenance plan to help extend the lifespan of your roof.
Do you offer free roof inspections?
Yes! Our experienced, licensed roofers will inspect your roof up close to assess the scope of any obvious damage and also map out the probable unseen damage just below the surface. With that knowledge at hand, we will let you know if roof repair is the most affordable option or if you're better off with a full roof replacement.
How do I know if my home is a fit for solar?
Not every home is eligible for solar, so cross your fingers. Let's hope you're one of the lucky ones, and you can save money. There are three main factors:
Number one is called "sun exposure" – does your roof (or the location of your solar panels) get enough access to the sun? One of the things we'll do is analyze your sun exposure from satellite images and other technology to make sure that you've got what's called "proper solar access". There's a percentage we're looking for which, as long as you've got that, you're good to go.
Number two is orientation. What direction would your panels be facing? Ideally, we would want the panels facing South or West, since that is where the most sunshine hits. So you're looking for the right sun exposure, you're looking for the right orientation.
And then there's just number three. Are there any structural issues with your house or roof that would make it difficult to mount solar panels? And if it turns out that it doesn't work for solar, no harm done, you got educated and you know it is what it is. But that's the reason why I encourage you to reach out and get a no-cost proposal from us so we can actually do the hard work of analyzing your property and show you exactly how much money you can save by going solar.