Your roof is your home's first line of protection – and so far, it has done a great job! It has protected your loved ones from countless hail, thunder, and wind storms that have blown through your area. However, these storms, as mild or severe as they might be, can pack a punch and impact the integrity of your roof.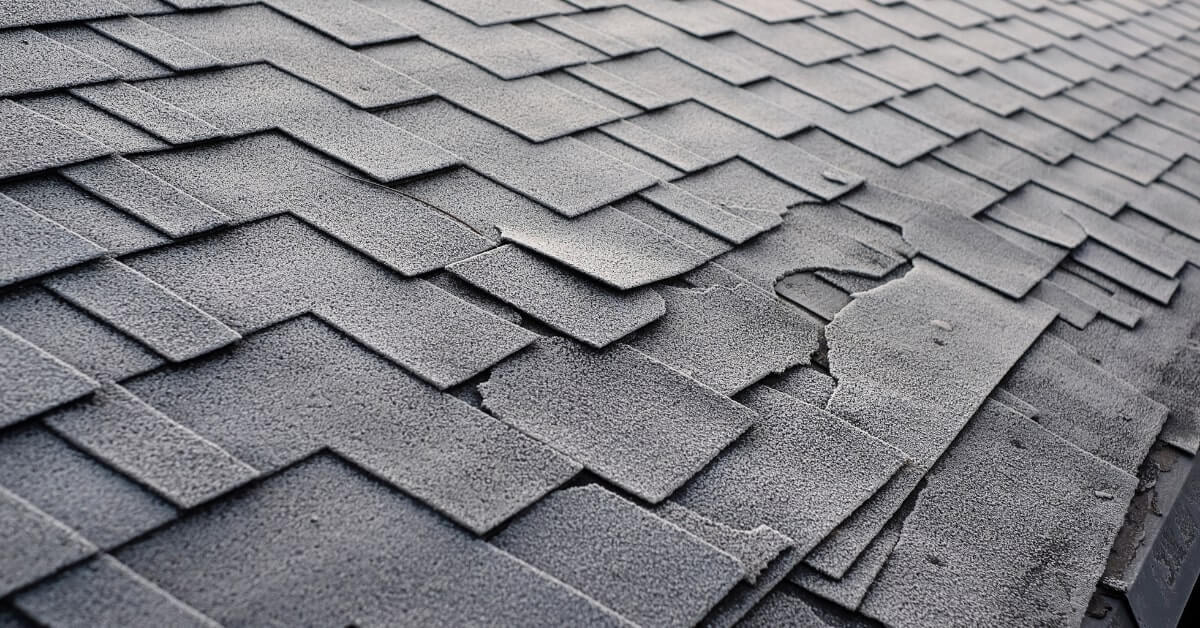 It isn't safe for most home or business owners to get up on their roof to check for damage due to slip and fall hazards. You should leave that to the professionals! Our team of experienced roofing expert can easily and safely inspect your roof for any damage that might have occurred over the past few years.
Our experts know exactly what to look for when it comes to storm damage. Even if the damage is subtle, we can identify it before it becomes an even larger problem. Small knicks, tears, or detachments of your shingles may seem small right now but can cause a huge issue for your roof in the future. Getting your roof inspected and repaired on a regular basis can help you extend the life of roof and save you money in the long run.
If our team notices damage from a storm that needs to be repaired right away, we can help file the necessary paperwork and documentation for filing an insurance claim. We work closely with insurance companies and will partner with you to make sure everything is filed correctly on your behalf.
Springtime is a beautiful season full of new life and new projects. Don't feel alone when thinking about repairing or replacing your roof after storm damage took a toll. Trust the experts to do their job in a respectful and trustworthy way so one less project is on your plate.
As always, our team is there to help you make the right decision along the way. We never push repairs or replacements if you don't think it is the right time for your family. Even if no insurance claim is placed, we will still help however we can do ensure the integrity of your roof is still intact.
Contact us today to schedule your roof inspection this spring! Our team of roofing professionals will help you identify, plan, and ultimately fix any issues that are found with your roof. Our team is excited and ready to help!
Frequently Asked Questions
A tree fell on my roof. Can you remove it, too?
Yes! We can arrange for tree removal prior to roof tarping. We'll coordinate the entire project for you.
Bottom line, what is the cost to the homeowner?
It is always your deductible plus upgrades if any.
Can a residential roofer do commercial roofs, too?
Not many can. A membrane or metal commercial roof system generally requires a different set of equipment, specialized materials, and expertise. From asphalt emulsion-based systems to built-up and mod-bit systems to galvanized steel, commercial roofs require a different skill set than that of a roofer more used to dealing with residences. Ninja Roofs is the company to choose in Centennial, CO and Surrounding Area when you want to "go local" and choose the best commercial roofing company at the same time.
Can you just re-roof or lay new shingles over the old ones?
While there could be some initial cost-saving in laying new shingles over an old, aged roof, we generally don't recommend re-roofing. Old shingles also mean an old roof deck. By tearing off the old shingles, our licensed roofing contractor will then be able to spot any areas of instability or damage to the roof deck that may have been hidden by the shingles. We can replace any sections where there may be wood rot. Roof installation techniques and materials have also changed over the last couple of decades, and your old roof may not be up to code. "Re-roof" jobs may also not carry the same warranties as a full replacement.
Can you tarp my roof even if it's still raining?
Generally, we'll wait for a break in the rain before climbing onto a roof when the rain is still sheeting due to the safety risk. One of the best benefits to choosing Ninja Roofs is that we live right here in Centennial, so we'll be watching the weather along with you. Just give us a call, and together we'll determine the best time to tarp your roof.
Do I have to hire you to fix my roof if you tarp it?
Absolutely not, but you should. Temporary roof tarping is generally covered by your homeowner's insurance policy, but choosing multiple contractors for the same claim may delay the process. Insurance companies refer their clients to us all the time, though, because they trust us to get the job done right at a reasonable price. We can be on our way to tarp your roof, and we'll come back and meet with your insurance adjuster to discuss our recommendations for the repairs. One-stop-shopping!
Do I need to buy a battery?
There are two primary ways that homeowners benefit from owning a battery:
First, you can use the battery for backup power. If the grid goes down, you're still covered. If disaster strikes, if there's a hurricane in your area, or a fire, or any of the things that we're all dealing with now, on a much more common basis, having a battery will allow you to continue to have electricity in your home, even if your utility company can't provide it.
The second reason is that you can often actually save money by getting a battery if you live in a region with specific rate structures where you would benefit from using stored power from the battery during more expensive times of the day. In many regions, the net metering policy allows you to save money without the need for the battery unless you want the peace of mind that comes from knowing that your home can provide electricity even when your utility company can't. Ask your Ninja Roofs consultant for more information. They'll be able to give you a detailed proposal of exactly how much a system will cost with a battery if you're interested in one. We work with all the biggest battery manufacturers and we can absolutely make sure that you get taken care of – whichever way is best for you.
Do you know how to work with flat roofs?
Yes! We have years of experience installing, maintaining, and repairing the membrane roofs and steel roofs most often used for large, flat surfaces. Whether you want to know your options for a full replacement or simply need your roof repaired because you've discovered a water leak or other damage, Ninja Roofs can help. We will also help you develop a regular roof maintenance plan to help extend the lifespan of your roof.
Do you offer free roof inspections?
Yes! Our experienced, licensed roofers will inspect your roof up close to assess the scope of any obvious damage and also map out the probable unseen damage just below the surface. With that knowledge at hand, we will let you know if roof repair is the most affordable option or if you're better off with a full roof replacement.
How do I know if my home is a fit for solar?
Not every home is eligible for solar, so cross your fingers. Let's hope you're one of the lucky ones, and you can save money. There are three main factors:
Number one is called "sun exposure" – does your roof (or the location of your solar panels) get enough access to the sun? One of the things we'll do is analyze your sun exposure from satellite images and other technology to make sure that you've got what's called "proper solar access". There's a percentage we're looking for which, as long as you've got that, you're good to go.
Number two is orientation. What direction would your panels be facing? Ideally, we would want the panels facing South or West, since that is where the most sunshine hits. So you're looking for the right sun exposure, you're looking for the right orientation.
And then there's just number three. Are there any structural issues with your house or roof that would make it difficult to mount solar panels? And if it turns out that it doesn't work for solar, no harm done, you got educated and you know it is what it is. But that's the reason why I encourage you to reach out and get a no-cost proposal from us so we can actually do the hard work of analyzing your property and show you exactly how much money you can save by going solar.